Tag Archive: "bike"
I recently hit 9000 miles on my bike. I get more fun and function out of it than ever these days. In the spirit of acknowledging good gear, here are a few notes on noteworthy components.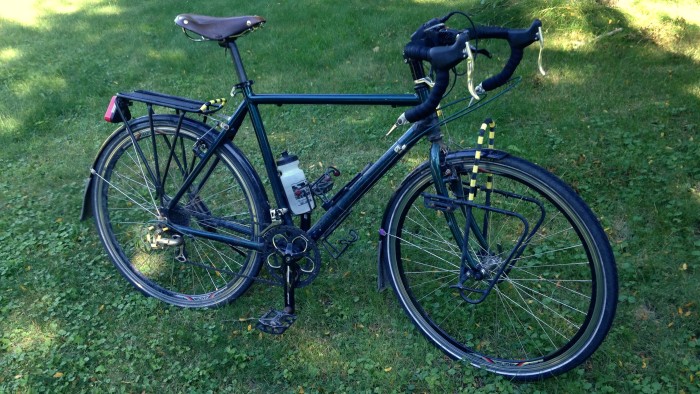 It's built around a Nashbar aluminum touring frame, which sadly no longer seems to be sold. It was only $99! People ask what makes it a touring frame. Two things, in my experience: first, lots of hardpoints for mounting useful stuff like racks, fenders, and bottle cages, and second, it's got a slightly longer wheelbase than a "racing" road bike. The stretch is subtle but easiest to see if you look at the gap between the wheels and the seattube/downtube. The extra length provides plenty of clearance for accessories and baggage.
Tires are venerable Schwalbe Marathons in 700c x 32. They're not cheap but they are bulletproof. These tires have absorbed hits that would burst lesser tires and have chewed up and spit out debris would that perforate lesser tires. I know: the first set of tires I had on this bike lasted less than a thousand miles and suffered constant punctures in city riding. I think I've only had four or five flats in the remaining 8000 with these (and some of those were due to valve stem issues).
The wheels are Pure Tour 700s from Bicycle Wheel Warehouse. They are built for durability with 36 spokes and deceptively deep and beefy rims. No broken spokes and still perfectly true.
The saddle receives a lot of comments. It resembles a vintage Brooks but is in fact a Velo Orange Model 3. What's the deal with leather saddles, you ask? (Many people do.) True, the surface does not feel as soft as the foam coating conventional bike seats, but unlike those seats, there is no rigid platform beneath the surface: the leather is strung like a hammock between the front and back. It fully conforms to your butt and grows increasingly supple over the course of a long ride.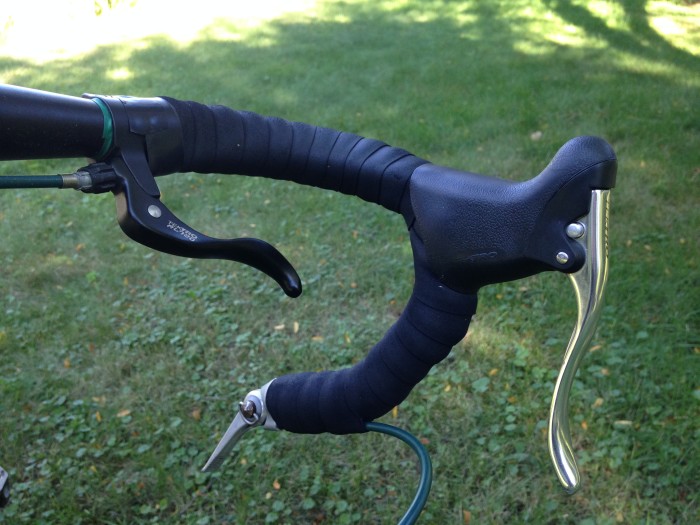 Cockpit levers! Cyclocross-style inline brake levers on the top of the bars maintain control even in relaxed upright riding. Old school friction shifters are not gonna win any drag races but are endlessly adjustable and provide the bicycle equivalent of stick shift street cred (or so I suppose). The one fault with this setup is that the bar-end shifter location is subject to the occasional inadvertent bump. I dig the Gevenalle (née Retroshift) solution of mounting friction shifters on the brake levers – something I still consider for the future of this bike.
Posted on Friday, July 31st, 2015.