Making a Studded Bike Tire
Inspired by a tutorial discovered via BikeHacks, I decided to make a studded bike tire to facilitate pedal-powered winter adventure.
I started with an old spare tire, and six 98¢ bags of screws: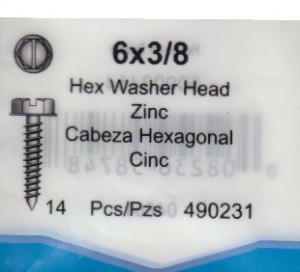 Then I sat down and drove all 84 of those puppies into the tire:
I opted to stick with the points-in approach rather than the less labor-intensive points-out approach. I used a bench grinder to blunt the points of the screws:
Even without points, the screws constitute a threat to the inner tube. Mr. Tuffy liners are recommended for the purpose of extra puncture protection, but I'm trying a cheaper approach – a second layer made of scavenged inner tube:
I installed the tubes in the tire and mounted it on a rim. As I only have one studded tire, I'm using it in the front. I conjecture that steering is more important than acceleration in preventing icy wipe-outs.
It works! On hard pavement, the studded tire rolls with a prickly sound like tearing fabric. I'll post some some winter action shots soon.
Posted on Monday, December 21st, 2009. Tags: bike.