Starpacker
Starpacker is a utility that helps join Starkits and Tclkits to create stand-alone Starpacks. This can already be done with SDX, which is a superior tool in many ways, but Starpacker provides a simpler interface to this particular aspect of SDX.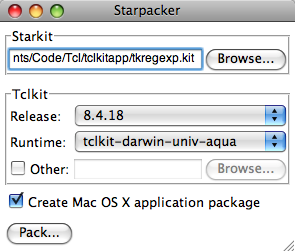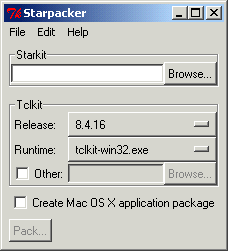 More extensive help is included with the program.
Demonstration
Drag an application Starkit onto Starpacker, select a Tclkit, and click Pack to create a stand-alone executable for the indicated platform. The Tclkit is downloaded automatically if needed. (May not work with all Starkits.)
I recommend watching the video full screen for maximum clarity.
Download
Posted on Wednesday, March 26th, 2008. Tags: code, mac, tcl.