Tag Archive: "starshipsofa"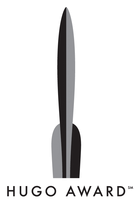 The nominees for the 2010 Hugo awards were announced today at Eastercon. I mention this for three reasons:
StarShipSofa received a nomination for Best Fanzine. This is the first time a podcast has been on the ballot for a Hugo award. I began listening to StarShipSofa late last year and quickly became a fan; many of the short stories I've mentioned here were heard on the 'Sofa. In February, I voiced my support for the good ship's nomination campaign in A Hugo for the StarShipSofa, so I am quite pleased to see this recognition for everyone involved in its production – especially editor Tony C. Smith.
StarShipSofa qualifies as a "fanzine", but there's nothing amateurish or obscure about it or other popular SF podcasts. In the few months since I started listening to these shows, I've heard a number of the stories that were nominated and learned of a few more. (I suspect I may hear even more as I work my way back through the archives.) For example, I heard and reviewed The Gambler by Paolo Bacigalupi via 'Sofa 121; on the strength of that story and other online recommendations, I bought, read, and enjoyed Paolo's debut novel The Windup Girl, which is among the candidates for Best Novel.
I take the remainder of the nominees – those I haven't read, heard, or heard of – as worthy additions to my reading list!
A few notes on other notable nominees:
I haven't read Peter Watts' Best Novellete-nominated story The Island, but I did read and review his novel Blindsight. I'm glad for that bit of good news amidst other dismaying developments in Peter's life.
Although I haven't posted any reviews yet, I listen to the Clarkesworld magazine podcast and have notes on a few stories, including Best Short Story nominee Non-Zero Probabilities by N. K. Jemisin. Clarkesworld itself is a nominee for Best Semiprozine. Again, I emphasize that podcasts provide great exposure for some of the top content in the genre.
Somewhat surprisingly, I've seen every film nominated for Best Dramatic Presentation, Long Form: Avatar, District 9, Moon, Star Trek, and Up. I'm not sure which I would vote for.
Posted on Sunday, April 4th, 2010.