A Hugo for the StarShipSofa
September 2010 – Be warned: in this post I proudly join those quoted below in exploding past the sense of shame a normal person might feel when begging people to vote for them in a popularity contest! Fear not, science fiction fans – the future's big enough for all of us. Anyway, hearty congratulations to StarShipSofa and all the other Hugo award winners and nominees. I look forward to reading (or, yes, listening to) those I haven't already read.
As you might deduce from my recent reviews, I've been listening to a lot of podcasts recently. I've discovered that the world of genre fiction podcasts is a happening place. These aren't second-string stories: you can hear current work from good authors. Getting published in audio form on a popular podcast is getting published, period, if many authors' bibliographies are any indication. Some podcasts, like Escape Pod, are even paying markets (modest though they may be). In short, what started as a way to pass time at the laundromat has blossomed into enthusiasm for the form, despite my occasional difficulty paying attention to the noise in my ears.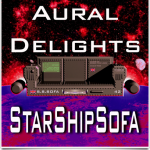 One podcast, StarShipSofa, is particularly special. It's an "Audio Science Fiction Magazine" that features nonfiction articles, interviews, editorials, and other material in addition to the bedrock content of interesting stories. It's all tied together by host Tony C. Smith, and produced with the help of a team of volunteers. It's a community effort that keeps you abreast of what's happening in the SF community.
For that reason, there is a grassroots campaign underway to get the StarShipSofa nominated for a 2010 Hugo Award for Best Fanzine.
Awards are just awards, but the reader-bestowed Hugo Awards really are a pretty big deal. A podcast has never been on the ballot for a Hugo in any category, but a growing number of StarShipSofa contributors and community members argue that the time is nigh to recognize the role shows like the Sofa play in sustaining the genre.
Amy H. Sturgis on the grounds for eligibility:
Technically speaking, electronic publications have always been eligible for the Hugos. The year 2009, however, brought two new and exciting developments for those of us who support new media: first, the audiobook METAtropolis […] was nominated for a Hugo in the Best Dramatic Presentation, Long Form category, a first for a straight-to-audio production; and second, the World Science Fiction Society Business Meeting ratified a constitutional amendment that added the words "or the equivalent in other media" to various Hugo Award category definitions, thereby formally acknowledging what had always been the case de facto, that electronic publications were eligible. [See here for a somewhat stodgier explanation of the pertinent amendment from WSFS representative Vincent Docherty.]
Larry Santoro on podcasts, readerships, and community:
The podcast communities echo the groups that gathered in the 20s and 30s around such figures as H.P. Lovecraft and pals. They are a shadow of the "Futurians," a group of science fiction fans-cum-writers-cum-agents and editors-cum-publishers who formed the soul of the Golden Age of Science Fiction of the 40s. People such as Isaac Asimov, Damon Knight, Virginia Kidd, Judith Merrill, Frederik Pohl, Donald A. Wollheim, James Blish, Jack Gillespie, Cyril Kornbluth and others were the Futurians. [The rhetoric I deployed in annoyance against certain old-school stories certainly does not apply to the rest of the era!]
Matthew Sanborn Smith on why the good ship and her crew deserve recognition:
One of the greatest programs out there comes together from all over the globe every single week because of nothing but love. And whether you're a contributor or listener, you're a part of that. If that's not a fanzine, there's no such thing as a fanzine. If the Sofa never wins an award it will still have achieved something unique in all of science fiction history: It will have been our home.

But let's win an award anyway.
Robyn Bradshaw on the experience of enlisting with the StarShipSofa:
Before getting involved with StarShipSofa, I never read genre magazines or went to cons or anything – I just bought lots and lots of novels that I read quietly in my basement "and washed my hands afterwards" (to misquote Robert Heinlein).

Now I am writing promo blurbs, narrating short stories, doing audio reports, emailing/ blogging/ friending/ tweeting all over the place, and working on the show's next book project.
Kind of makes you want to get involved. I'm not presently in a position to pony up the nomination dues, but I'm going to keep listening to the StarShipSofa, and perhaps one day I will wander down to the spaceport and ship out.
Posted on Saturday, February 20th, 2010. Tags: reviews, starshipsofa.