Creating Heightmaps of Large Regions
An open question from Josh Ajima about making 3D printable models of Virginia prompted me to consider the general problem of finding a suitable elevation dataset for a large region like a state.
@DesignMakeTeach Here's a start. (https://t.co/qS9F9kWMeQ clipped to state boundary & saved at quarter res. in QGIS) pic.twitter.com/hmwwX7dj6U

— Jim (@anoved) September 28, 2015
In this post I will explain how I made the image I posted in reply, using free tools and data.
Tools
I use QGIS, a free cross-platform GIS. I also use the GdalTools plugin. It is distributed with QGIS, but you may need to install or activate it via the Plugins > Manage and Install Plugins dialog: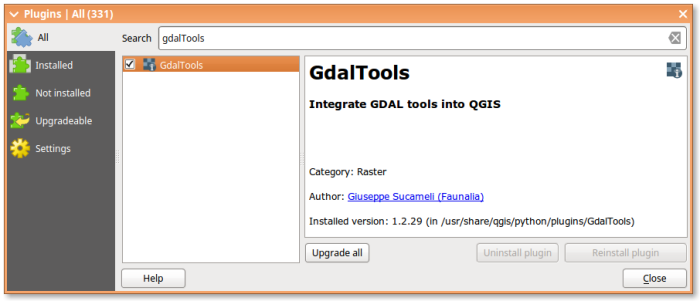 An image editor like GIMP capable of manipulating and converting TIFF images is also useful.
Data
For many of my terrain models, I use SRTM data retrieved from EarthExplorer. However, that data is published in 1° tiles that are tedious to mosaic and unnecessarily detailed for some purposes. So, rather than patch together many small images, I clip the desired area from one big image.
USGS Small-scale Elevation Dataset (elev48i0100a): This layer consists of a single GeoTIFF image covering the lower 48 states at a resolution of 100 meters per pixel. (Heads up – the download linked from the info page is over 1 GB and unzips to more than 3.)
Natural Earth – Admin 1 – States, provinces: I use state boundaries from this layer as a mask to select elevation data from the nationwide image. You can of course use any overlapping polygon features or even a simple rectangular selection as your clipping mask.
Process
Exercises
Related topics not (yet?) covered in this tutorial:
Converting the final heightmap to a printable STL
Reprojecting the elevation dataset to match local/popular reference maps
Posted on Tuesday, September 29th, 2015. Tags: 3d, geography.