Rekindled
Earlier this month I mentioned that my Kindle's display had malfunctioned and that I'd decided to repair the device with a replacement screen.
Well, the new screen arrived today. I took apart my Kindle and replaced the screen. It works!
I relied on PowerbookMedic's excellent Kindle 3 disassembly video to guide my efforts. One note for others undertaking similar repairs: it is not necessary to separate the speaker assembly from the "midboard" in order to replace the screen. Since they are adhered together, the speaker assembly will come out anyway when you remove the midboard.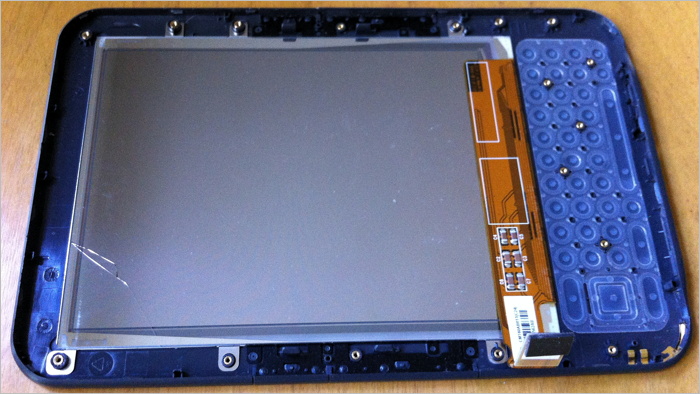 It is necessary to disassemble most of the Kindle to access the screen. The screen is sandwiched between the front cover and the other components, which are accessed through the back cover. Once I exposed the back of the screen, I found confirmation that it was physically damaged: cracks in one corner, as seen above. From the front, the cracks appeared only as artifacts in the display.
It was neat to observe that e-ink panels truly do not require electricity to maintain an image. The new screen arrived with a default Kindle home page displayed, despite have spent a few weeks in a shipping box disconnected from any power source.
In the time that my Kindle has been out of commission, Amazon has released a rare software update for the Kindle 3. Added is support for a few new file formats and, evidently, a sharper version of the reading font. Without comparing it to text on an older device, I can't claim to notice any specific difference, but I suppose it does look nice. Legibility, at any rate, is greatly improved – due to the non-broken new screen, of course.
Incidentally, the new screen came with a protective plastic film, which I've left in place for now. It gives the matte display a slightly glossy sheen, which is not necessarily preferable to e-ink's normally paper-like appearance, but it does give the reader a bit of showroom appeal. Not bad for a retread!
Posted on Monday, September 24th, 2012. Tags: kindle.