American FactFinder: Geo within Geo
A great deal of census data is available through American FactFinder. The custom table interface allows you to retrieve a single table containing exactly the data you want. To obtain data for many locations within another location, use the easily-overlooked "geo within geo" selection method to avoid the tedium of retrieving and combining separate tables for a group of locations.
As an example, I'll show you how to retrieve the year 2000 population by age and sex for each block in Broome County, NY.
---
First, select Decennial Census from the Data Sets menu at factfinder.census.gov: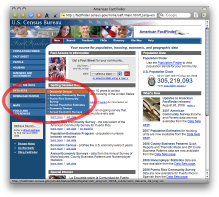 Then select Custom Table from the Census 2000 Summary File 1 category: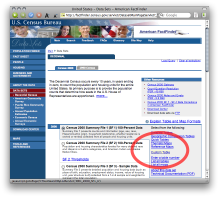 Here's the important step. Click the geo within geo selection method tab: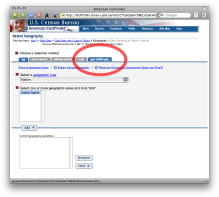 Choose Blocks from the Show me all menu (your table will contain data at this resolution):
By default, the table will contain all block groups within a county. Select New York and Broome County from the following menus to select which county:
Select All Blocks from the list of blocks in Broome County and click Add: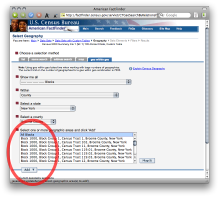 Now that you have defined the enumeration units and area of interest, click Next to choose your variables: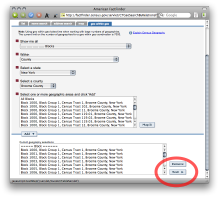 Select P12 Sex by Age (Total Population) from the list of tables in Summary File 1 and click Go: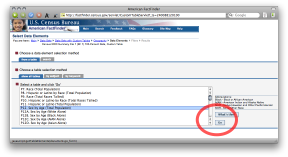 Check which variables you want from table P12 – all of them. Click Add, then click Next to proceed:
Click Show Result to display the table (this may take a few moments):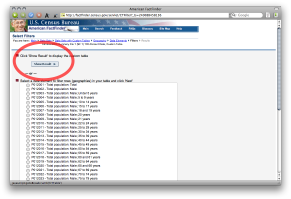 Lastly, choose Download from the Print/Download menu to obtain the table in spreadsheet form:
How you use the data is up to you. Perhaps you'll use dbfjoin to map it with an appropriate shapefile from the Census Bureau's TIGER/Line repository. (Users of pro GIS tools don't need dbfjoin, but I'm bringin' it to the streets!) Alternatively, you might want to plot the age/sex composition of a few blocks with Population Analyst. Stay tuned for more bargain-bin demography and cartography.
Posted on Sunday, September 21st, 2008. Tags: geography.