A Limerick, the Throne of the Crescent Moon, and Places in Fiction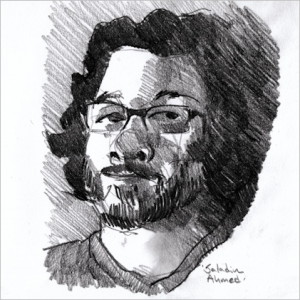 Here's a limerick about Throne of the Crescent Moon, the debut novel by Saladin Ahmed:
There was a wise man from Dhamsawaat
who lived with a boy who prayed and fought.
The man loved an old whore,
who deplored the ghul war,
and the boy met a girl who was not.
(With apologies to Zamia and Raseed for making light of their story – but I suspect Doctor Makhslood would embrace a harmless bit of impious doggerel!)
I enjoy stories with a strong sense of place.
Examples large and small come to mind: sordid New Crobuzon from China Miéville's Perdido Street Station (not to mention the conjoined cities of The City & The City); Green Town, Illinois – distillate of gothic Americana that it is – from Bradbury's Something Wicked This Way Comes; all of the burgeoning desert planet Arrakis from Frank Herbert's Dune; and even Redwall Abbey from the Brian Jacques series of the same name.
Vivid impressions of these places root them in my memory.
I think that in the Crescent Moon Kingdoms – and especially the big, bustling, central city of Dhamsawaat – Ahmed may have created a similarly memorable setting. The main character Aduolla Makhslood is an expert ghul hunter and affable old fart who is all the more relatable for his relation to the places he inhabits: his favorite tea house, his run-down neighborhood, and his own dear home. So, as with the examples above, Aduolla's world has become a part of mine.
---
To readers interested in Throne of the Crescent Moon but frustrated by the fact that my "reviews" aren't actually reviews, let me suggest another way to assess your interest: check out Saladin's short fiction. Some of these stories tell the earlier adventures of characters from the novel.
Posted on Saturday, July 20th, 2013. Tags: books, limerick, reviews.